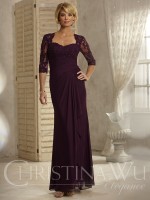 Eva's is the best place to go when you're shopping for a mother of the bride dress. As one of the premier Michigan Formal Dress Shops, we have hundreds of dresses to pick from in sizes 4 to 30 in missy, women's, petite, and women's petite.
Eva's has young and sexy styles, but we also have the right dress for grandma, and every style in between. If you're going to a wedding, auto show, or maybe even a cruise, we have what you're looking for. Eva's will sell off the rack, or we could special order if time permits. Customers say that they have been everywhere and cannot find a dress, but when they come to Eva's Bridal, they have trouble deciding between two or three dresses that they love. Don't be discouraged. Eva's is just waiting to help you.
We also carry Adrianna Pappell, Emma Street, Cachet, and Patra.